National Youth Ministries Conference
VFY's National Youth Ministries Conference is an annual event that is designed to provide training and fellowship for vocational youth pastors, volunteer youth workers, and their spouses. The very first NYMC was held in January 1986 at Emmanuel Baptist Church in Toledo, Ohio – and has since been held in places like Columbus, OH; Dayton, OH; Sandusky, OH; Flint, MI; Indianapolis, IN; Winona Lake, IN; Clarks Summit, PA, and was once held on a cruise in the Caribbean Sea!
NYMC  has featured some of the leading voices in contemporary youth ministry. It has hosted speakers like Doug Fields, Chap Clark, Mark Senter, Walt Mueller, Jim Burns, Dave Rahn, Barry St. Clair, Ken Rudolph, Wayne Rice, Barry Shafer, Wayne Morgan, and many more! Over 5,000 youth workers have participated in VFY's conferences - with a direct impact of over 500,000 students in their respective churches.
The 2021 National Youth Ministries Conference was held on the campus of Clarks Summit University on July 12-17 as part of CSU's iconic "Teen Leadership Conference". Featured speakers included: Wayne Morgan, Kristi Walker, Jeff Stimpson, Andy Giessman, Tim Ahlgrim, Chuck Pausley, Josh Jones, Dan Istvanik, and Mel Walker.
NYMC 2022
The 2022 Naational youth Minsites Conference will be held on the Campus of Clarks Summit Unviersy on July 11th-26th. Blow you will find this years schedule.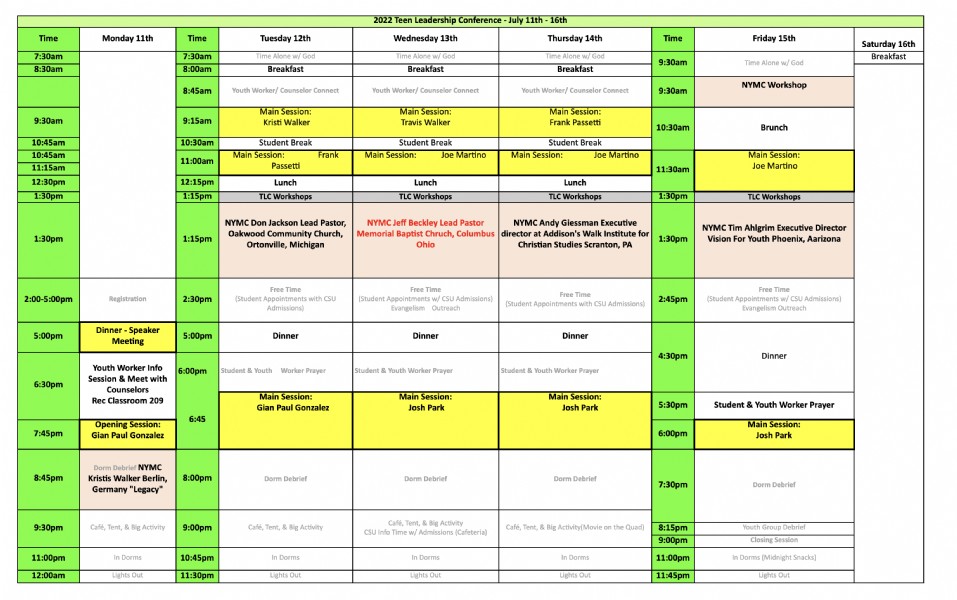 Video files of the seminars from the 2020 National Youth Ministries Conference Online are posted here: